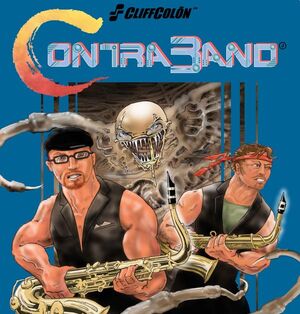 Cliff Colon

ContraBand

Hey Phil! Records
2008
Tracklist
Edit
01. Intro
02. Jungle
03. Base
04. The Boss
05. Waterfall
06. Snow Field
07. Energy Zone
08. Alien Lair
09. End Credits
Since the beginning of jazz, musicians have reworked songs familiar to nonjazz listeners and made them their own. Music from pop tunes, movie soundtracks and Broadway shows have been arranged and performed in a jazz format.
In honor of this tradition, tenor saxophonist Cliff Colón has created the album "ContraBand", which contains jazz arrangements of the popular music from his youth, "video games". In this case, the music is from the 1980′s side-scrolling, run & gun, 8-bit video game called Contra. Each track on the recording is Colón's arrangement of the music of Contra, originally composed by Kyouhei Sada and Hidenori Maezawa from Konami Corporation (1988). The songs chronical each level (or stage) of the game, in sequential order. Colón has kept the melody, harmony lines, and overall feel of the compositions true to their original MIDI form, while still opening up the songs with jazz chord progressions to allow for improvised solos.
On the debut album "ContraBand", tenor saxophonist Cliff Colón performs alongside fellow Seattle musicians J. Charles on alto saxophone, Frank Seeberger on guitar, Eric Verlinde on rhodes, Chuck Kistler on bass and D'Vonne Lewis on drums.